Backbone Network Equipment Installation + Commissioning
Working to our customer's overall network design, Gem engineers initially surveyed each proposed location in nine separate sites across the UK to ensure that there was sufficient space in existing racks, or enough room for a new rack if required. Cabling requirements were also noted at this stage, including distances to existing equipment, timing sources etc, as well as any installation materials that would be required. This information was presented to the customer for inclusion in their final low level design.
This approach ensured that there were no delays in the installation phase caused by shortages of installation materials, patch cords etc.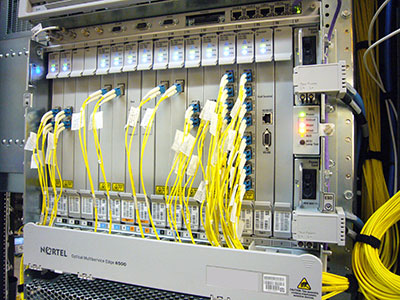 As part of the installation, nine Ciena OME6500 Optical Multiservice Edge chassis and cards were installed into existing racks, with DC cabling installed to local distribution boards within each room. Fibre cabling was completed to fully integrate each node into the network.
Once the physical installation was complete, the nodes were configured and connected into the existing backbone network, providing our customer with further 40Gb and 10Gb backbone circuits with which to support their customers.
Posted Date: 02nd Dec 2010